Lest We Forget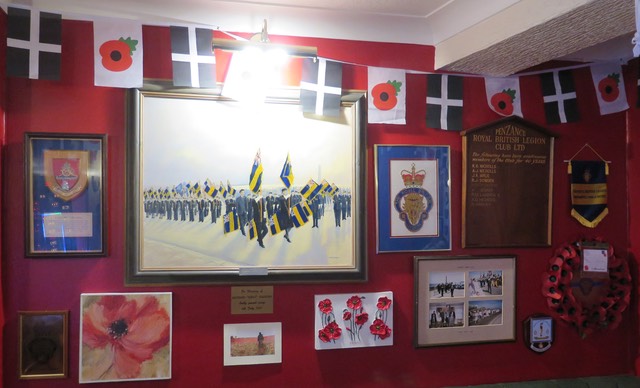 Housing and Financial Guide for Veterans
   When a member of the British military retires from active service and returns to civilian life, the adjustments required can be significant. Unmarried soldiers with no children may have no dependents, but if they have been serving overseas the idea of finding a new home via a private let can be somewhat daunting.
   Equally, many of the men and women of our armed forces may have been living in Service Family Accommodation and now find themselves seeking a roof over their heads for themselves and their families. This guide will offer advice that can make the transition from serviceperson to civilian as smooth as possible.
 https://businesscostsaver.co.uk/guide-for-veterans/
Rest in Peace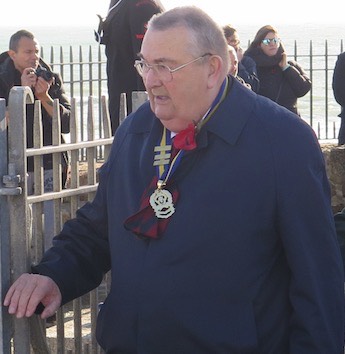 President: Jenkin Reginald George 1929-2020. 
A long serving member of the Legion sadly past away 11th March 2020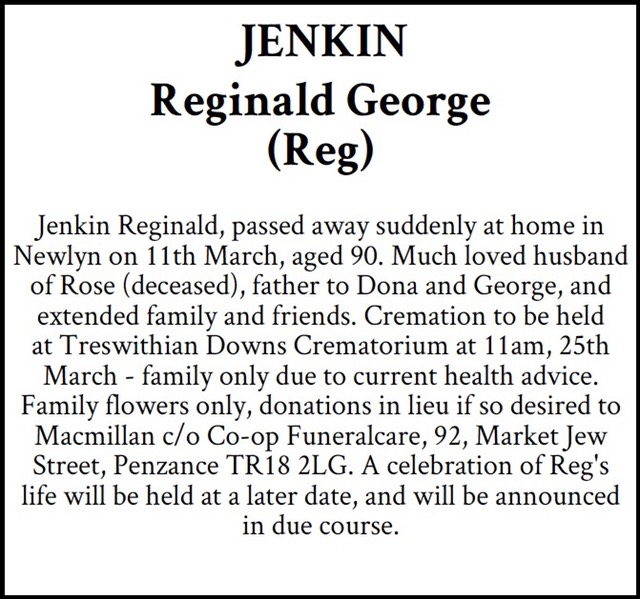 Rest in Peace
1933-2019
Malcolm Lawrence a long serving member of the Legion sadly past away 21 Jan 2019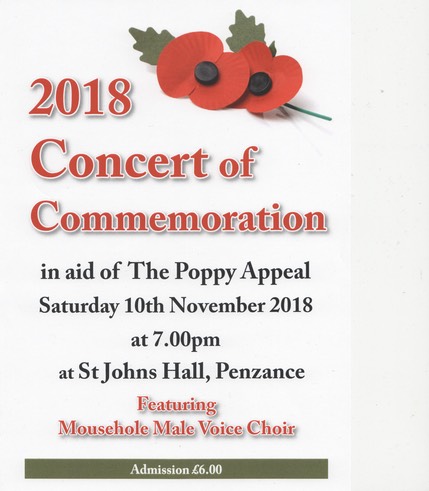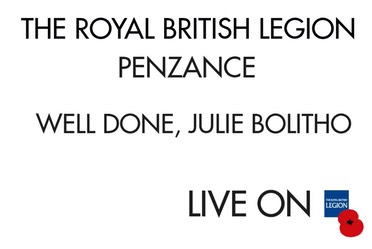 Julie Bolitho from Penzance
I am running in the London Marathon for The Royal British Legion
 because I really appreciate their work
• Event: London Marathon 2018, 22 Apr 2018

Local firefighters join ex-service personnel at the veterans' breakfast held in the Penzance branch of the Royal British Legion.Picture by Greg Martin
Cornishman 1 Feb 2018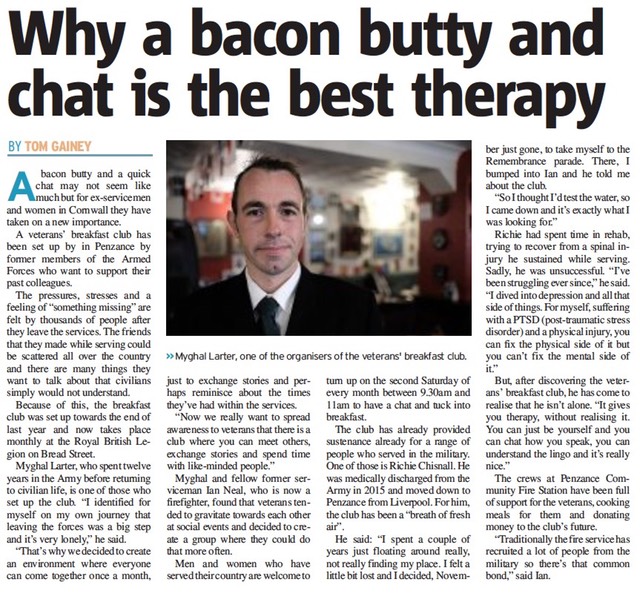 Keep Calm and Carry On: The Truth Behind the Poster
The Royal British Legion has uploadeDan Snow on Passchendaele - The Final Battles
To mark the centenary of the Battle of the Somme the Somme: Orchestral Film Screening
Hosted by Penzance Orchestral Society  On the 8th July 2017  at  St John's Hall Penzance 19:30–21:30
To mark the centenary of the Battle of the Somme, the Imperial War Museum has not only restored the legendary silent documentary shot at the battle, but commissioned composer, Laura Rossi to write a haunting new soundtrack for it. 
Penzance Orchestral Society, 110 this year, is proud to be one of a hundred orchestras around the country performing Laura's music at a screening. The hour-long film will be preceded by a short conversation with Dr Toby Haggith, Senior Curator from the Imperial War Museum's film department, who was closely involved in the film's restoration and re-release.
GWR gives a prestigious platform to launch the Royal British Legion's Poppy People campaign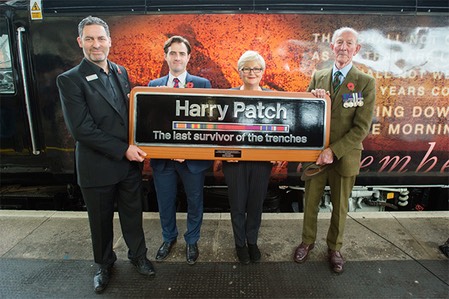 Great Western Railway (GWR) is on track to support The Royal British Legion's annual volunteer recruit drive by providing the perfect platform – the symbolic Harry Patch locomotive.


Fields of Battle Lands of Peace 14-18 is a Royal British Legion sponsored exhibition featuring 60 powerful images of landscapes from Flanders to Gallipoli, shot by award-winning photojournalist Michael St Maur Sheil. The evocative photographs conceal the terror and suffering played out on the battlefields of WW1. Sites that once hosted the bloodiest military battle in history have been skilfully photographed to capture the scars of the Western Front and highlight nature's remedial power.
The centenary of the Battle of Jutland is being commemorated in 2016. The Legion is encouraging communities to organise their own local commemorations to complement the National event being held in the Orkney Islands. Visit our Jutland 100 page to download a toolkit to help you arrange an event near you.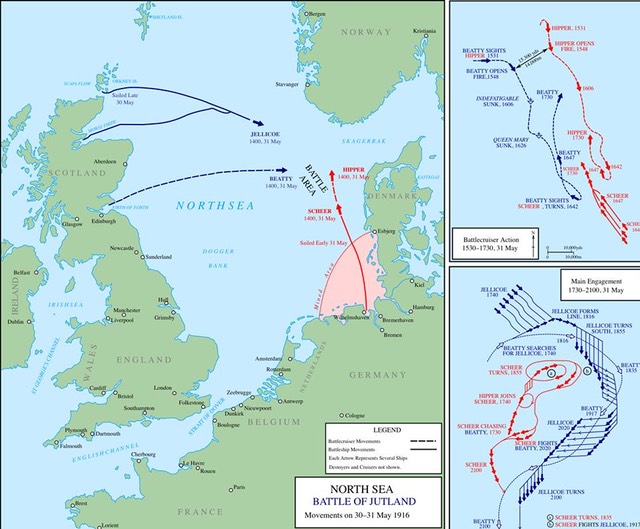 Poems for Heroes  compiled by John Montgomery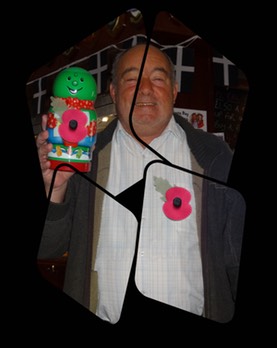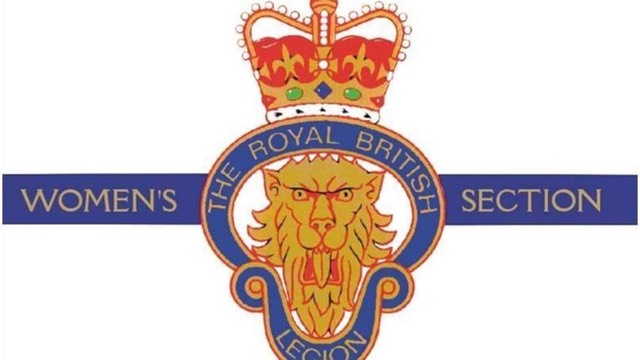 Royal British Legion Women's Section 
will be no more as of 30th September 2016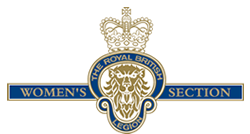 The Royal British Legion Women's Section
WWI soldiers' remains unearthed after more than a century
Workers digging a trench for a new gas pipeline in Langemark in West Flanders have unearthed the remains of 19 soldiers that were killed almost 101 years ago in the First World War. The nationality of 12 of the soldiers has been identified. 10 are British and 2 are German.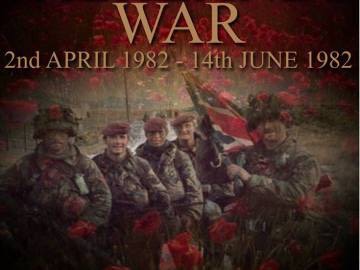 Remembering those who made the supreme sacrifice during the Falklands War.


ASBESTOS RELATED CANCER AND THE MILITARY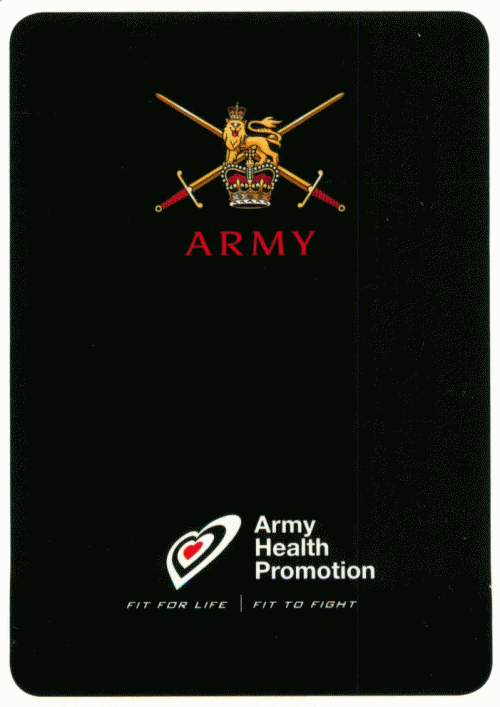 War veteran Eric Lomax Honoured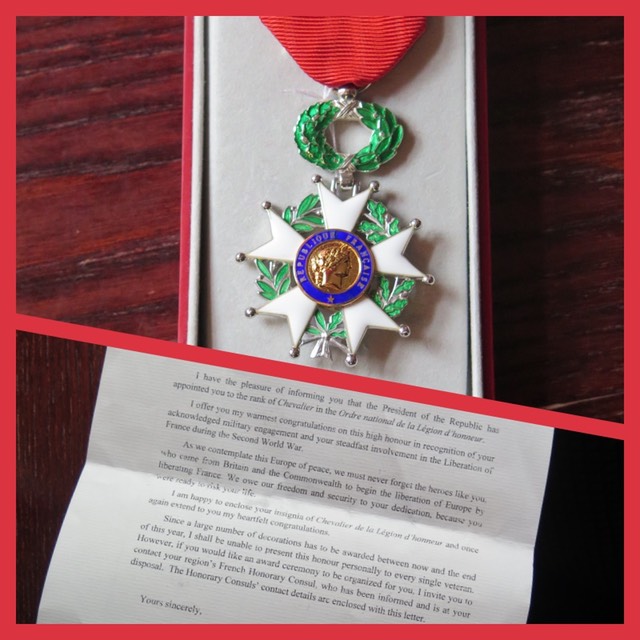 Eric Lomax, a retired accountant from Penzance and Branch member of TRBL Penzance, has been appointed to the rank of Chevalier in the Ordre national de la Légion d'honneur and has received the insignia of Chevalier de la Légion d'honneur.
Eric Lomax was just 19 when he and his company stormed a Normandy beach on 6 June 1944. Wounded in the chest by machine gun fire – his life saved by a glasses case over his heart – he said: "It was fierce and we lost a lot of men"
Is it illegal to wear medals you weren't awarded?
Veterans call them "Walt medals" - as in the fictional fantasist Walter Mitty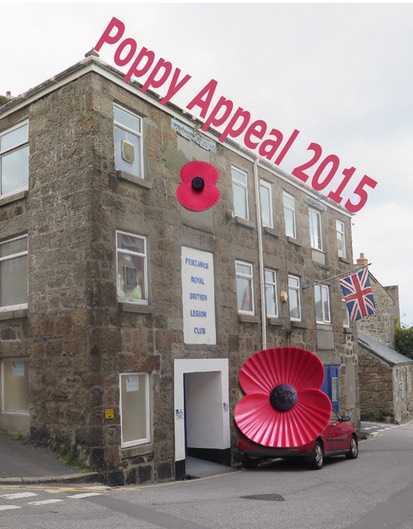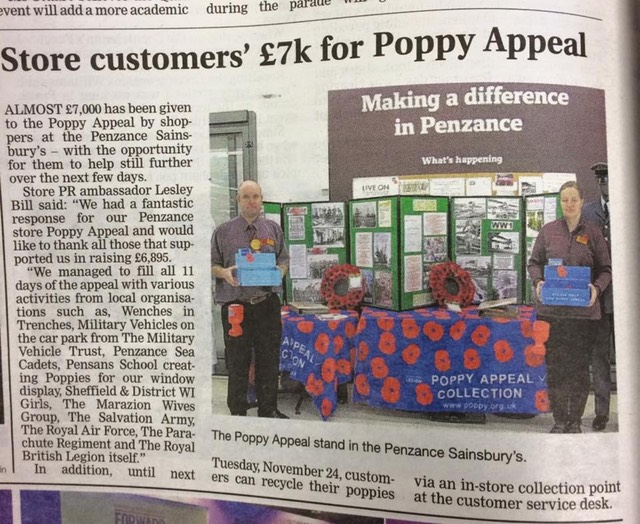 Hundreds of people gather at Truro Cathedral to pay their respects to soldier David Curnow who died after being found with head injuries in Redruth last month.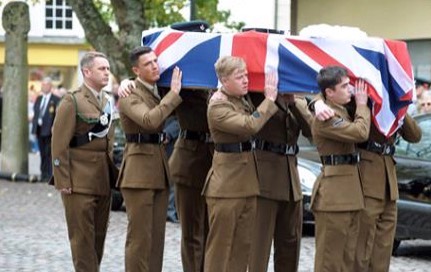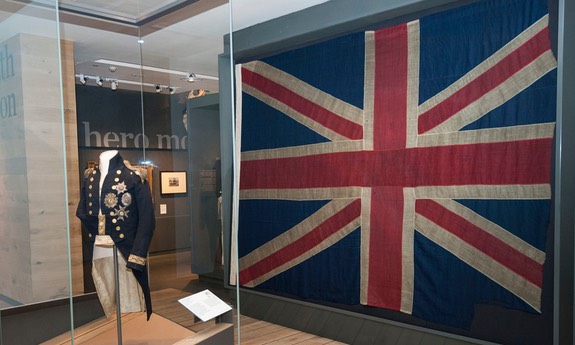 Union flag from Nelson's fleet unfurled again to mark Trafalgar Day
national maritime museum greenwich
Battle of Trafalgar remembered in Madron Penzance.
ID cards for veterans considered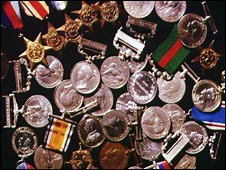 The MoD said it was "actively investigating" the idea
Millions of veterans could be issued with special identity cards under plans being considered by the government.
Ex-servicemen and women would get priority NHS treatment, access to housing and discounts on public transport by using the cards. 
As many as four million people would be eligible to join the scheme, which could be introduced next year. 
Similar systems in the US and France offer subsidised travel and discounts from private companies. 
A Ministry of Defence spokeswoman said: "We are actively investigating the options of an ID card for veterans that could guarantee identity thereby helping to secure access to services and discounts." 
Minister for veterans Kevan Jones said the government needed "to make it happen". 
He told the Independent: "We will provide veterans' ID cards so the person can say, 'I have served in the services,' and get priority access to treatment."
BBC News UK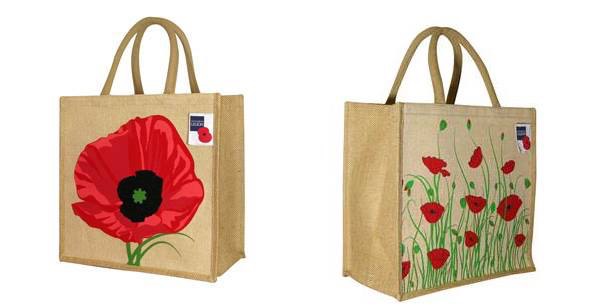 Available from Sainsbury's supermarkets from the 10th October 2015 for just £3! With all profits going towards helping our Armed Forces community, 
it's a great way to show your support.
Cornwall pays an emotional tribute to soldier Dave Curnow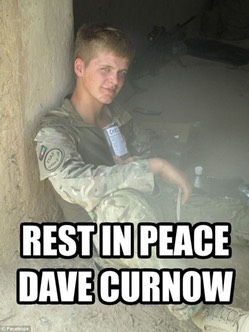 A young soldier who survived serving in Afghanistan has died due to a scuffle on the streets of his Cornish hometown.Dave Curnow, 20, died today from injuries he sustained in the early hours of Sunday morning, September 2015. He was found lying unconscious on the ground by a member of the public, after he was involved in an incident outside a nightclub in Redruth, Cornwall.He suffered serious head injuries, and was taken by ambulance to the Royal Cornwall Hospital because being transferred to Derriford Hospital in Plymouth.Two 21-year-old men have been charged with his murder.
Mayor's Sunday Service at St Peter's Newlyn.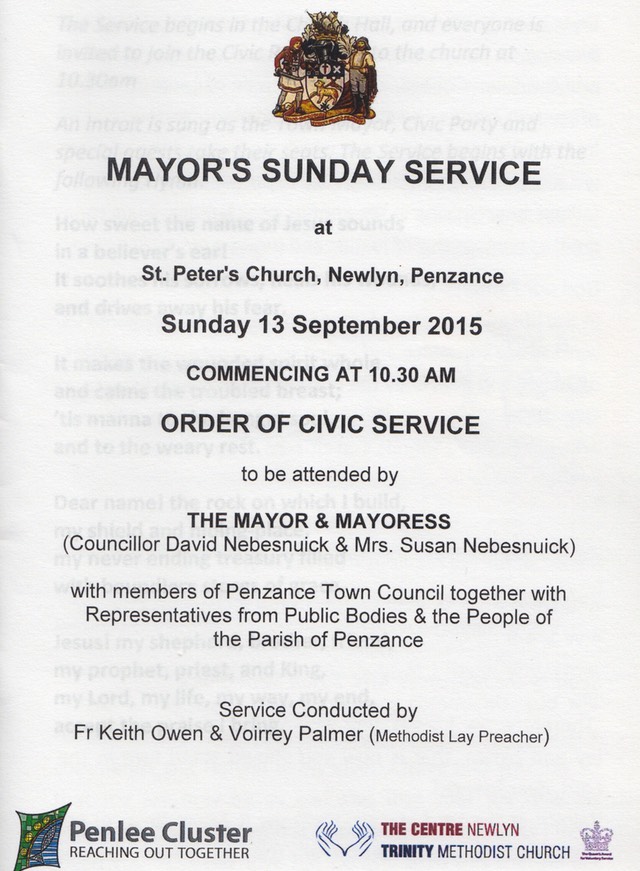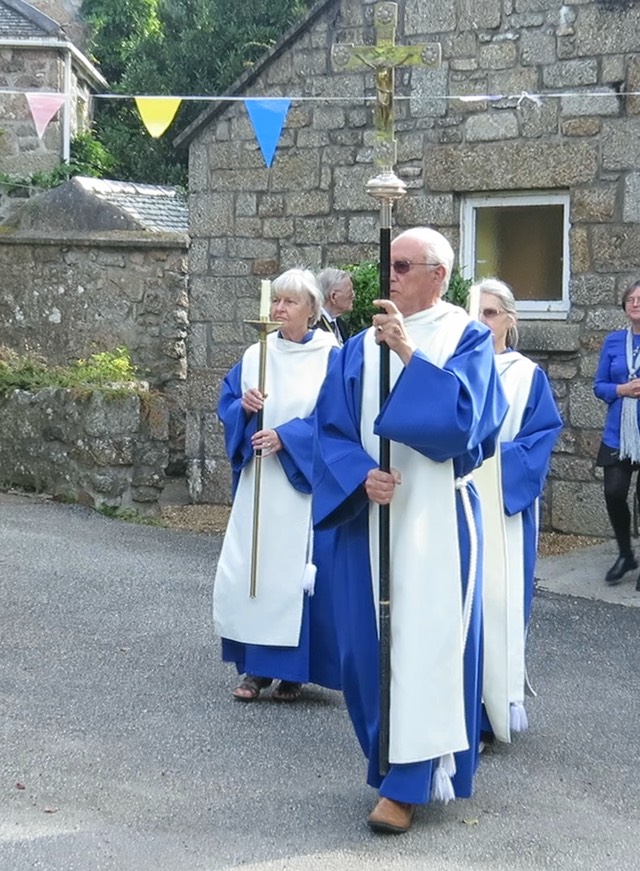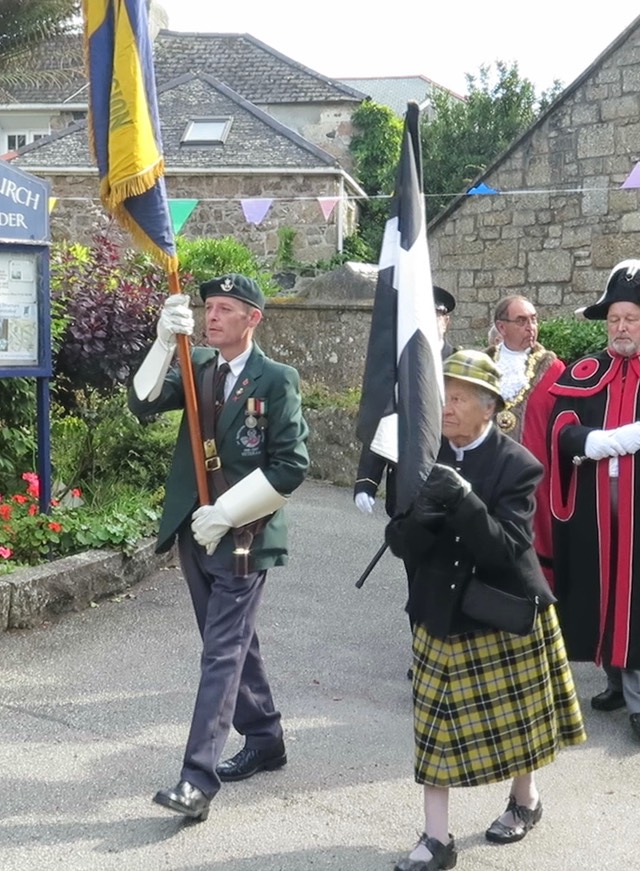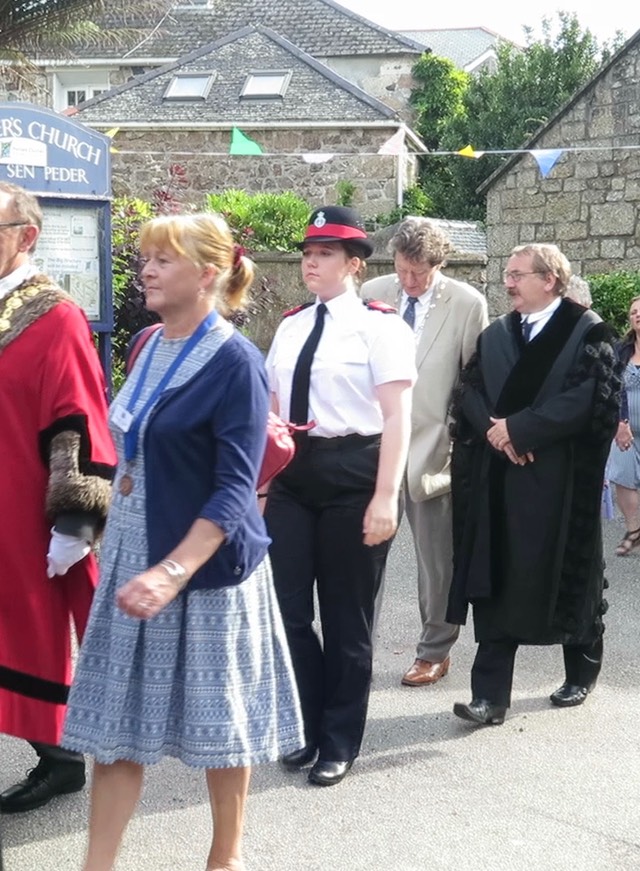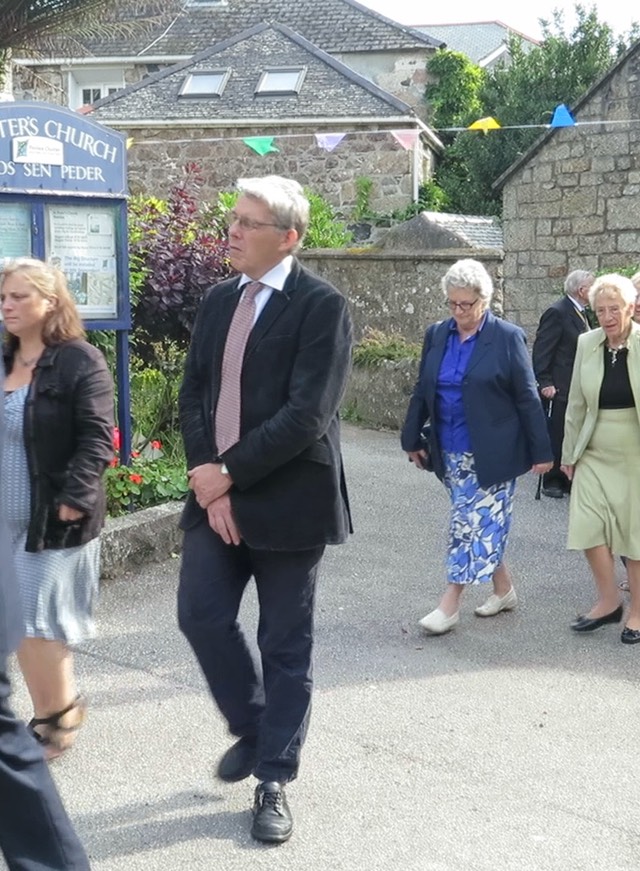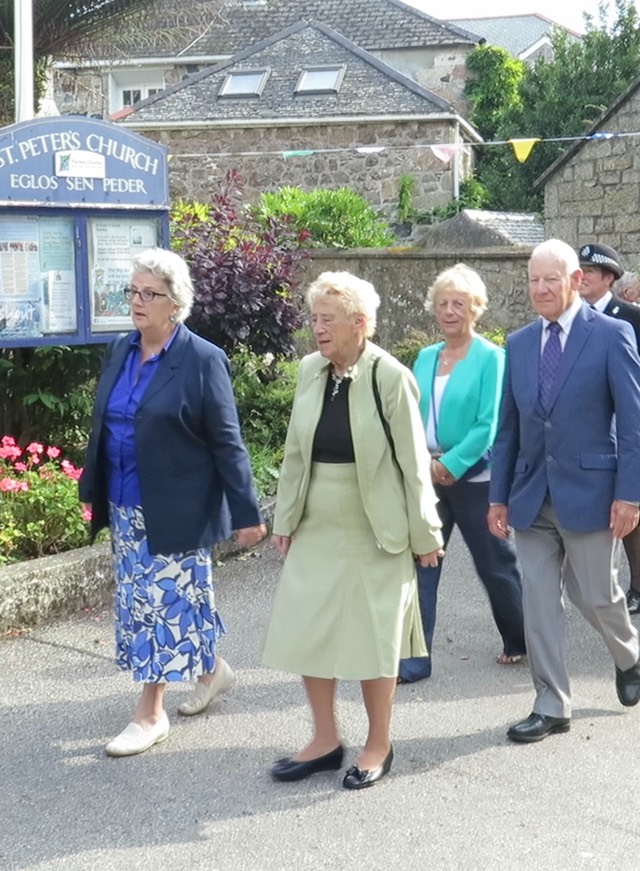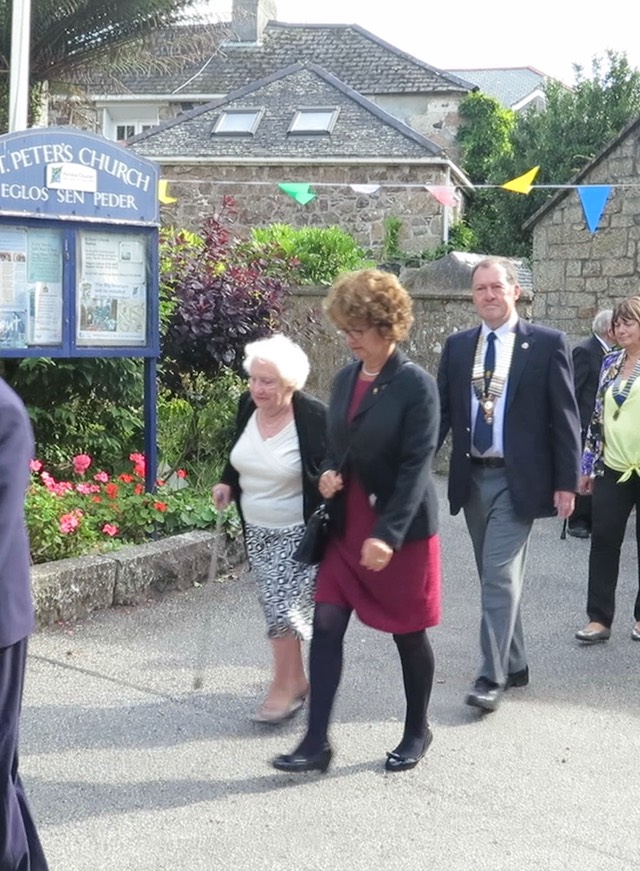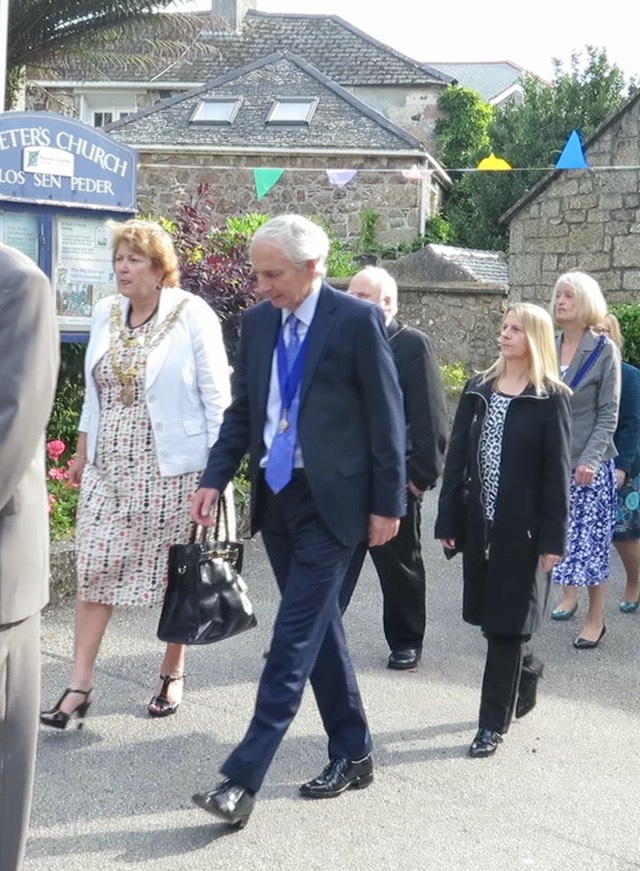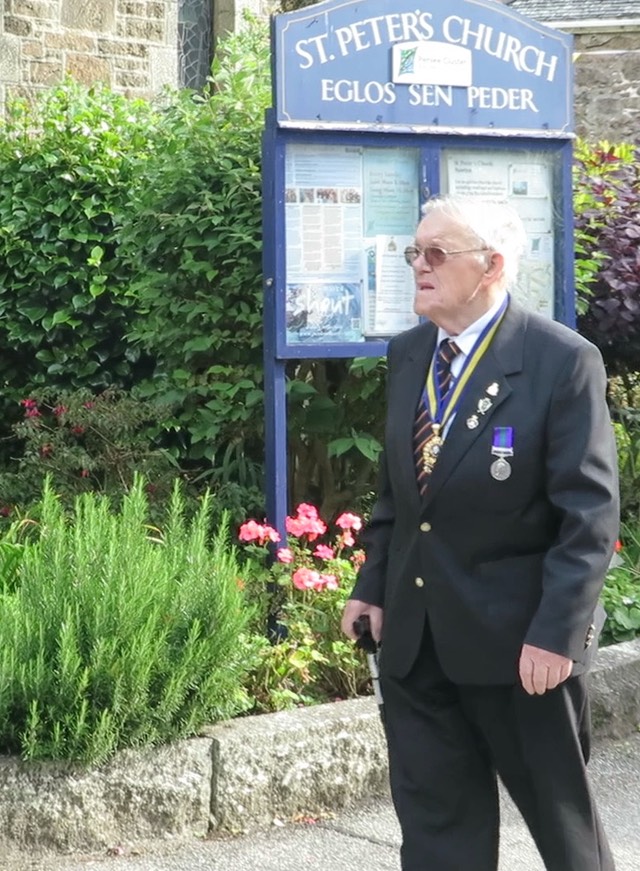 The Legion asked people to read about VJ Day. Their responses might surprise you.